How can braces change your smile?
Whether you are an adult seeking professional results or the parent of a child who needs a specialized and gentle orthodontic treatment and expects superior orthodontic care. Our orthodontist team also stay current with the latest orthodontic techniques to straighten teeth as quickly and effectively as possible. Please visit us "OrthoSmile Dental Clinic".

Conventional metal braces
Braces are a device that is used to straighten teeth, to correct a bite and to correct irregular teeth. Teeth respond to the gentle forces that are applied to them. Modern orthodontists have devised many different types of dental braces to effectively take care of shaky teeth or to align them properly.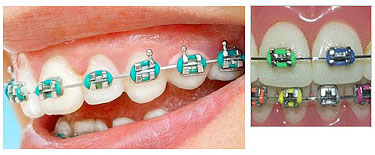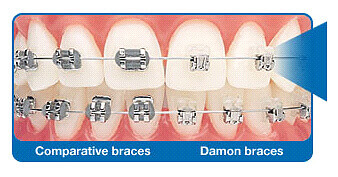 Self-ligating braces, Speed braces or Damon System
Braces are a device that is used to straighten teeth, to correct a bite and to correct irregular teeth. Teeth respond to the gentle forces that are applied to them. Modern orthodontists have devised many different types of dental braces to effectively take care of shaky teeth or to align them properly.
Clear braces
The different types of dental braces also include the ceramic braces and these are more popular among teenagers. They are translucent and clear and therefore a less visible alternative to the traditional ones. These braces emerge with the natural color of the teeth and somehow have formed a niche for themselves, as being very visually appealing. However, ceramic brackets are also more brittle and prone to breakage. In order to deal with this drawback, the manufacturers of these brackets make them thicker to resist the expected breakage.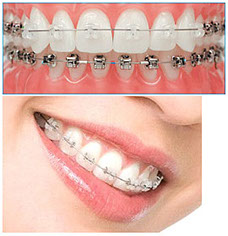 Invisible lingual braces
Lingual braces are fitted behind the teeth. These are expensive though, but compensated for in the fact that they are not visible within casual interactions. However, the lingual dental braces are difficult to adjust to and they obstruct the desired movement of the tongue, therefore they can become uncomfortable and may result the tongue in getting sores and cut. Speaking may also be a problem at first. New innovation "STb Light Lingual System" delivers superior outcomes – efficient, simplified and faster treatment as well as greater patient comfort.
Invisalign
These are good selection for people who has slight orthodontic problem. These braces are virtually invisible and thus make them hardly noticeable. They are used to effectively and gradually move teeth into the desired position. One benefit of these braces is better oral hygiene as they can be removed easily during eating or brushing.
The latest concept under-development is braces that are referred to as smart brackets! The smart bracket contains a microchip that measures the forces that act on the bracket and subsequently, the tooth interface. The targeted aim is to reduce the duration of orthodontic therapy and the related expenses and discomfort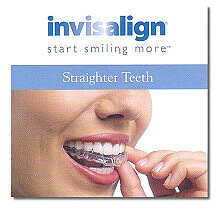 To ensure the best overall facial and dental development, children should have an orthodontic consultation by the time they reach age 7, according to the American Association of Orthodontists. If a problem is evident at a younger age, then seek an orthodontic evaluation sooner. This evaluation typically is just for observation and we will continue to monitor progress at no charge. If a problem is evident, taking action early can spare a lot of treatment and expense in the future.
Parents should seek treatment for their children before age 7 if their child has any of the following:
Mouth breathing

Speech problems

Thumb or finger sucking habits

Teeth grinding

Jaws that shift or make sounds

Crowding, misplaced or blocked out teeth

Jaws and teeth that are out of proportion to the rest of the face

Erupted permanent teeth that are crowded or overlap

Difficulty chewing, obvious abnormal bite development
It is a common misconception that braces are for children and teenagers, but anyone- regardless of age- can benefit from orthodontic treatment, whether it is catching developmental problems early in children or correcting a long-standing bite problem that did not get addressed in younger years
It is never too late to achieve a beautiful smile. If you've been hiding your smile or living with a bite problem for a long time, it's time you learned how adult orthodontics can transform your smile and your life. There is no age limit to improving your smile and self-esteem. Adults of any age can enjoy the benefits of orthodontic treatment with Invisalign – a series of removable, clear plastic aligners; Damon System Braces or iBraces (lingual braces, hidden braces or invisible braces).
Maybe you didn't get braces when you needed them as a child, or maybe you did, but you stopped wearing your retainer. Orthodontics can still help you. You are never too old for a beautiful smile.
Smiles are a big part of our identity, how we feel about ourselves and how others perceive us. Many people said that crooked teeth leave a negative first impression. It's easier than ever before to improve your smile in far less time, with greater comfort and with greater results and benefits that last a lifetime. A nice smile is not only beautiful, it also promotes good health.
Braces Benefits
Enhanced facial appearances
Healthier teeth and gums : easier to keep clean, less chance of tooth decay and tooth loss
Contributes to your self-confidence and your self-image
Better bite, chew and speak : clearer speech for interviews, public speaking
Alleviate or prevent physical health problems such as reduce stress, headaches and digestion problem
orthodontic treatment gives people a lot to be happy about. Let our expertise make you smile. When left untreated, many minor orthodontic problems may become worse, contributing to abnormal wear of tooth surfaces, inefficient chewing, excessive gum stress on gum tissue, and misalignment of the jaw joints. This can all lead to chronic headaches or pain in the face or neck. Treatment by a specialist to correct minor orthodontic issues are often less costly than the additional dental care required to treat more serious problems that can develop in later years.
So, no matter what age you are it is never too early or too late to invest in braces and ultimately invest in yourself. Start enjoying the lifelong results today.
Orthodontics is a branch of Dentistry specializing in diagnosis, prevention and treatment of jaw, face and bite irregularities (malocclusion). Orthodontic treatment is provided by an oral health care professional known as an Orthodontist. Recent years have brought about many changes within the dental industry, specifically with regards orthodontic treatment and care. Now more than ever patients are experiencing fewer incidences of cavities and missing teeth due to the heighten awareness of fluoride use and preventive dentistry. This increasing awareness on the health and look of a patient's smile has fueled the desire for many to seek out orthodontic treatment not only as a medical necessity, but for cosmetic reason as well.
Whether it is traditional braces, or custom made removable appliances, Orthodontics can help you have the healthy, straight and beautiful smile you've been waiting for!
People of all ages can be good ortho candidates but dentist or orthodontist can determine whether you can benefit from orthodontics. Based on diagnostic tools that include a full medical and dental health history, a clinical exam, impression for models of your teeth, bite registration, special X-rays and photographs, an orthodontist develop a treatment plan that's right for you. Many people think that braces are only for straightening teeth. On the contrary, braces can also be used to realign teeth, correct a person's bite and correct problems with a person's jaw. There are a number of common teeth problems that could lead to a person needing braces. If you have any of the following, you may be a candidate for orthodontic treatment
FACIAL PROFILE PROBLEM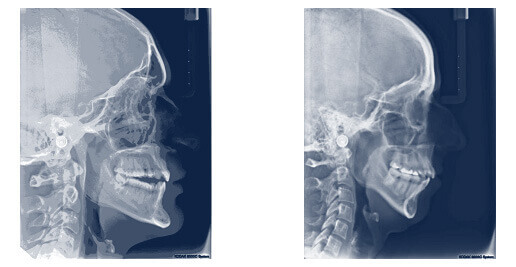 People who have skeletal problems, vertical deformities of the long face and short face types, excessive incisors protrusion or lip strain need treatment as soon as they are discovered, typically during the early mixed dentition. By the braces or/and surgery, you can improve your facial appearance. Orthodontic treatment will make your smile look fabulous. The fabulous smile will last for the rest of your life. Think about how a fabulous smile will improve your life. Orthodontic treatment will also make your face look delightful. Wouldn't a delightful face be wonderful?
SPACED TEETH

This occurs with abnormal continued growth of the jaw bone and discrepancy of tooth size. When teeth are missing, this can also be caused by the surrounding teeth shifting due to extra space. Spacing issues between teeth can lead to gum problems (due to lack of protection by the teeth), periodontal pockets and increased risk of periodontal disease. Sometimes people say they have trouble with biting and chewing correctly. Space problems are most often corrected with braces.
OVERLY CROWDED TEETH

This occurs when there is simply a lack of room within your jaw for all of your teeth to fit normally. Because the dental arch is too small, the teeth move together until there is nowhere left to move but up or down. When left untreated, overly crowded teeth can get worse over time. This crowding can lead to plaque accumulation, tooth decay and an increased chance of gum disease as well as his or her appearance. Often crowded teeth can be corrected with some teeth extractions as well as braces, to move everything into proper position
CROSSED BITE

This occurs when the upper and lower jaws are both misaligned. It causes one or more upper teeth to bite on the inside of the lower teeth, and can happen on both the front and the sides of the mouth. This can lead to abnormal tooth wear and chipping, chewing problem and periodontal problems including gum disease and bone loss.
UNDERBITE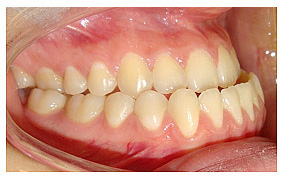 This occurs when the lower teeth protrude past the front teeth. It's usually caused by undergrowth of the upper jaw, overgrowth of the lower jaw, or both. It can also be caused by missing upper teeth. This can prevent the normal function of front teeth or molars, which can lead to tooth wear. It can also cause painful jaw and joint problems.
OVERBITE

An open bite is where the lower and upper incisor teeth do not touch at all when the person bites down. This puts a lot of pressure on the back teeth to take care of the chewing and biting. A person with an open bite will often rub his or her teeth together without meaning to.
ORTHODONTIC TREATMENT IN CONJUNCTION WITH OTHER DISCIPLINES OF DENTISTRY

In challenging situations, input from a number of dental disciplines is required to build comprehensive treatment plans. To obtain consistently optimal results, problems must be analyzed and treatment planned in a highly ordered fashion. The sequencing of therapeutic procedures ensures that the necessary expertise is included at the appropriate time. This team effort allows potential pitfalls and limitations for long-term patient treatment to be exposed, solutions and contingencies created and confusion eliminated resulting in a well-coordinated treatment effort. The primary players in the interdisciplinary approach are the restorative dentist, periodontist, and the orthodontist.
Taking care of your braces is not as complicated as it seems. When the braces are first fixed to your teeth, the list of ways you need to take care of your teeth will feel overwhelming. The good news is that taking care of braces breaks down into two basic categories of care: proper dental hygiene and diet discipline.
Dental Hygiene
Dental hygiene is especially important. That quick pass of your teeth that you used to do is no longer going to work. Now you need to brush, floss, and use a mouth rinse every night (a water pik is also helpful). The reason you need to step up your dental hygiene routine is that your braces greatly weaken your teeth. Because the teeth are moving, they aren't getting as many of the nutrients they normally get from your jaw and the tissues that surround the roots of your teeth. The glue holding the braces in place also eats away at the enamel of your teeth. Make sure that you follow the dental care routine suggested by your orthodontist. Flossing is going to be awkward and brushing is going to take a little bit longer, but in the end it will be worth it.
Brushing And Flossing Around Dental Braces
With braces, oral hygiene is more important than ever. That's because braces have tiny spaces where food particles and plaque get trapped, and insufficient cleaning while wearing braces can cause enamel staining and tooth decay around brackets or bands. Be sure to brush carefully after every meal with fluoride toothpaste and a soft-bristled toothbrush. Rinse thoroughly and check your teeth in the mirror to make sure they're clean. Take time to floss between braces and under wires with the help of a floss threader. Additionally, visit the dentist to have your teeth cleaned every six months to keep your gums and teeth healthy.
Braces Care Guidelines
The following routine will help make daily brushing and flossing, both simple and effective.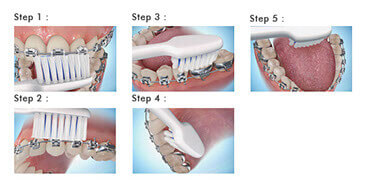 Prepare to brush. Take off elastics, and any other removable parts of your orthodontic appliance.
Clean your braces. Use your brush at a 45-degree angle to clean around the wires and pins of your braces. Brush from the top of each wire and then from the bottom. (Take time to ensure that all plaque and debris are removed, and that you work all the way around upper and lower teeth.)
Brush your teeth. Clean each tooth individually. First, place your brush at a 45-degree angle to the junction between the tooth and the gum, then apply gentle pressure as you move in a circular motion.
Do this for about 10 seconds. Use the same brushing action on all outer and inner tooth surfaces, tilting the brush as needed to better reach the insides of smaller front teeth.
Floss once a day with super floss, a type of floss for cleaning around appliances such as braces. Have your dental professional show you how to use this floss, or follow the instructions on the product package.
Rinse and check your teeth. Rinse thoroughly with water or mouth rinse, and examine your teeth and braces in the mirror. They should sparkle, shine and feel clean.
Frequency of Brushing
Brush at least four to five times a day following this schedule:
As soon as you wake up, brush really well (at least four minutes). Plaque has had all night to build up on your teeth. Do this before you get dressed or eat breakfast so you won't be rushed.
After breakfast, give a quick brush. This is to remove breakfast from your teeth.
After school, brush really well again. Plaque has been sitting on your teeth since the morning
After dinner, another quickie.
Before you go to bed, scrub 'em good. Now is the time to floss if you want to.
Always remember to not only brush your teeth, but your gums and tongue too!!! Poorly cleaned gums are just as bad as poorly cleaned teeth. They will become puffy, red, and have a tendency to bleed. So, attend to your gums during every brushing session.
The schedule we have suggested takes very little time. Keeping your teeth and gums well cleaned will eliminate bad breath, puffy and unhealthy gums, damage to your teeth, and will speed up the removal of your braces.
How to floss
Flossing With Braces: Misconception
Many children and teens (and some adults) don't know how to floss with braces. Or they think that they can't floss at all if they have braces. But that's not the case. In fact, daily flossing is especially important during the time that you wear braces because you're more likely to have food particles trapped in the braces, bands and wires, which could increase your risk of a cavity if the food contains carbohydrates (sugars).
Time Matters
Be prepared to spend three times as long on your oral care while you have braces on your teeth. Don't worry, it's worth the time-if you don't pay attention to oral hygiene while your teeth are being realigned, you increase your risk of gum disease. Plus, it can help your teeth look that much better when it's finally time to get your braces removed.
Steps To Follow When Flossing With Braces

Although flossing with braces is tricky, you can get the hang of it with practice if you follow these steps:
Use waxed floss (unwaxed floss is more likely to get caught and shred in your braces), dental tape or a product specifically designed to clean around your braces, like the Oral-B® Orthodontic Brush
Use enough. About 18 inches of floss should suffice
Thread it carefully. Take the floss and carefully thread it under the main wire of the braces before passing it between two teeth. Then remove the floss and re-thread it under the main wire to pass between the next pair of teeth
Be sure not to snap the floss-simply move it up and down gently against the side of each tooth
Parents: Do the flossing for younger children who lack the coordination to thread the floss under the main wire of their braces.
Waterpik® Water Flosser
Water Pik, Inc. invented the water flosser (also knows as a dental water jet or oral irrigator) in 1962. For nearly 50 years, we've been a leader in developing and manufacturing innovative personal and oral healthcare products for the entire family. Our Mission: To be your first choice for innovative, stylish, high-value products that enhance health and wellness while supporting sustainability We highly recommend using a Waterpik to loosen food particles and plaque before flossing and brushing. Use the Waterpik on the lower water pressure settings so the gum tissue does not become excessively irritated. It is important to note that the use of a Waterpik does not replace the need to brush and floss regularly.
Innovation
With a strong foundation of innovation, we continually stay in touch with customers to anticipate their needs in product design and health issues. We continue to incorporate the needs of dentists and hygienists in new product designs. As a result, new products continue to reflect higher quality, improved oral health benefits, and greater ease of use.
Need for Better Oral Care
Gum disease is a serious chronic problem that causes bad breath and tooth loss. Gum disease has also been connected with other systemic diseases such as heart disease, diabetes, and low birth weight babies.
The good news is Waterpik® Water Flossers can help you keep your gums healthy and strong. The Waterpik® Water Flosser is clinically proven to be twice as effective as traditional string floss for improving gum health, plus it's easy and pleasant to use. In just one minute per day, you'll be on your way to excellent oral health and the cleanest, freshest mouth possible.
A BRACES FRIENDLY DIET
There will be some foods that are frowned upon and some foods that are completely forbidden. The orthodontist makes these recommendations for a reason. The brackets and wires that are moving your teeth are not invincible. They can be damaged by food. In addition to avoiding foods that might cause damage to your teeth and braces, there are also foods that you will want to eat more often, to enhance the health of your teeth and gums as well as to ease the tension in your mouth as your devices move your teeth around.
"RETAINER"
Congratulations and well done! You have successfully completed the active phase of your orthodontic treatment. Retention is an essential part of your orthodontic treatment!!! Please pay close attention to the following advice: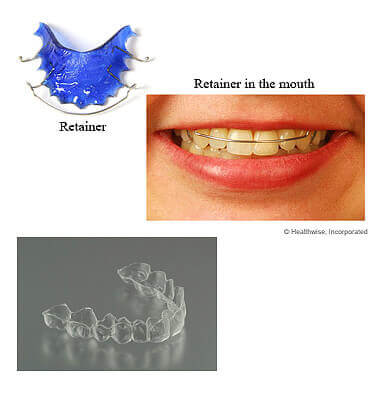 Wear your retainers as instructed.
Take your retainers out when eating… but always put retainers in their case (Most appliances are lost in school lunch rooms or restaurants)!
Clean retainers thoroughly once a day by gently brushing with toothpaste and rinsing with warm, not hot, water. Brushing retainers removes the plaque, and eliminates odors. Orthodontic appliance cleaners or denture cleaners can be used, but do not take the place of brushing.
Remove retainers when swimming.
Keep retainers away from hot water, hot car dashboards, pockets, the washing machine, and napkins.
When retainers are not in your mouth they should ALWAYS be in a retainer case. Pets love to chew on them!
Initially, you may find it difficult to speak. Practice speaking, reading, or singing out loud to get used to them.
Retainers are breakable, so treat them with care. If retainers are lost or broken call us immediately.
If you have any questions or concerns about your retainers, or your retainers need adjusting, call us. Do not try to adjust them yourself.
Always bring your retainers to your appointments with the proper care your retainers will last for years!
Remember – if you do not wear the retainer as directed your teeth may become crooked again. You may think nothing is happening if you do not wear your retainers, but you will find that by the time you notice, the retainer will no longer fit and nothing can be done to help!