Your invisalign treatment will consist of a series of aligners that you switch out about every two weeks. Each aligner is individually manufactured with exact calculations to gradually shift your teeth into place.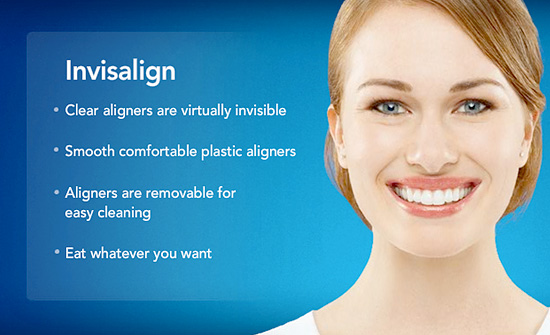 Not all clear aligners are Invisalign.
Invisalign is a patented proprietary system that uses 3D modeling software and cutting-edge manufacturing technology to provide a clear, removable solution for straightening teeth. Invisalign is effective at treating a wide variety of orthodontic issues including:

Invisalign was designed with leading orthodontists and is FDA cleared.
Invisalign has the experience of over 1,000,000 patients worldwide, and has a 96% of patient satisfaction rate.¹ And, 9 out of 10 patients would recommend Invisalign to their friends and family.
In today's busy and aesthetically-conscious world, many patients prefer Invisalign's clear and removable orthodontic solution to traditional brackets and wires. There are a number of other clear aligners out there, however none have the product experience, efficacy and customization of Invisalign. Look for the Invisalign brand on your aligner to insure you are receiving genuine Invisalign system treatment.
Designed just for you
So what happens when you decide Invisalign is for you? Simply visit an Invisalign-trained doctor for a consultation to discuss the goals you have for your smile. Once your doctor determines that Invisalign is right for you, he or she will write up a detailed treatment plan, and a set of virtually invisible aligners will then be sent to your doctor. Your Invisalign system may look like a simple piece of plastic, but it's much more. With advanced technology, your Invisalign aligners are custom-made for you, and only you. Over time, your teeth should move to reveal the smile you've been looking for. So take a look at the steps you and your doctor will take to get you to a brand-new smile.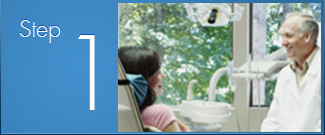 Your initial consultation with our orthodontist, During this visit, you'll discuss the issues you have with your teeth and what kind of results you would like to see. Once our orthodontist decides your situation is suitable for Invisalign treatment, a treatment plan will be mapped out with your goals in mind. Then, impressions and pictures of your teeth will be taken for digitization purposes.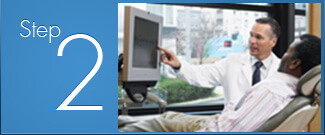 The impressions of your teeth will be digitized in order for our Invisalign orthodontist to work with a computerized 3-D image of your teeth. Then, our orthodontist will plan your tooth movements throughout your entire treatment timeline. You'll be able to see a virtual representation of your teeth before, during, and after completion of the Invisalign process so you can see what your smile should look like when you're done with treatment.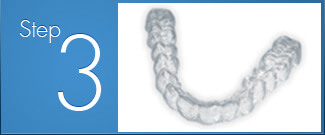 From our orthodontist's precise treatment plan, customized aligners are created with advanced technology for you to wear at each stage of your treatment. While the number of aligners varies for each individual situation, a full set of treatment typically includes 20-30 aligners per arch.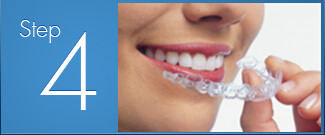 You should wear your aligners at all times, with the exception of eating and drinking, in order to complete your treatment in the timeline determined by you and our orthodontist. You'll go in for occasional checkups, to monitor your progress and to receive your next set of aligners. During the entire treatment process, you'll be able to watch your teeth gradually moving into place. Your smile will, little by little, move into something you'd like to show off. The people around you will be sure to notice your new-found confidence.
Choosing the Invisalign system is a smart decision on your part because the advanced technology provides you with customized treatment to give you a smile that suits you. And even with all that superior technology, we make it easy for you to get Invisalign. Please ask our Dental Design Center receptionists about our payment options to help you on your way to the smile you've always dreamed of.
The Invisalign process begins with a series of snap-on, custom fit, removable mouth trays, or aligners. These Invisalign aligners apply a controlled amount of pressure to your teeth, forcing them to shift. The process continues with a computer-generated image of what your teeth will look like at each stage of treatment from beginning to end. Each stage corresponds to the movement built into a set of aligners.
Will Invisalign work for me?

Not only is Invisalign versatile, helping to correct a broad range of dental and orthodontic issues, but it really works. And there are over a million smiles to back that up. But a confident smile isn't the only benefit of correcting your dental issues with custom-made Invisalign aligners—your health can be positively impacted as well. Learn more about several common issues below that an experienced Invisalign doctor can work with you to correct.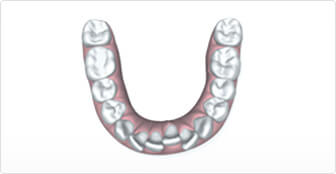 Overly crowded teeth:
This occurs when there is simply a lack of room within your jaw for all of your teeth to fit normally. When left untreated, overly crowded teeth can cause dental decay, an increase in chances of gum disease, and can prevent the normal function of teeth.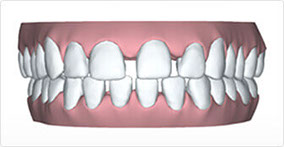 Widely spaced teeth:
This occurs with abnormal continued growth of the jaw bone. When teeth are missing, this issue can also be caused by the other teeth shifting due to extra space. Spacing issues in teeth can cause some periodontal diseases.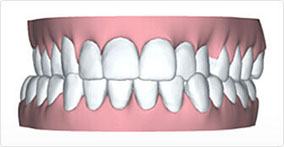 Crossbite:
This occurs when the upper and lower jaws are both misaligned. It causes one or more upper teeth to bite on the inside of the lower teeth, and can happen on both the front and/or the sides of the mouth. This issue can cause wear of the teeth, gum disease, and bone loss.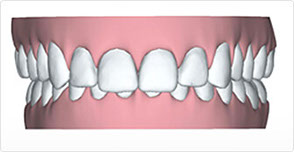 Overbite:
What people commonly refer to as an "overbite" is known to dental professionals as "overjet." It occurs when the upper teeth bite over the lower teeth. It's typically caused by either genetics, bad oral habits, or over development of the bone that supports the teeth. This issue can lead to gum problems or irritation, and/or wear on the lower teeth and can cause painful jaw and joint problems.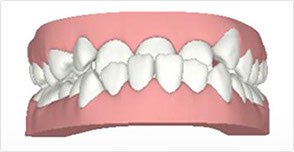 Underbite:
This occurs when the lower teeth protrude past the front teeth. It's usually caused by undergrowth of the upper jaw, overgrowth of the lower jaw, or both. It can also be caused by missing upper teeth. This issue can prevent the normal function of front teeth or molars which can lead to tooth wear. It can also cause painful jaw and joint problems.
Our Invisalign doctor will work with you to create a custom-designed program that will treat your specific dental or orthodontic issue(s). Your treatment program will consist of a full set of aligners, made for you, and only you.
Health Benefits
How Invisalign can develop the strength of your mouth Teeth that are packed together or too widely spaced can create unhealthy conditions, including swollen gums, redness and pocketing, all of which are signs of periodontal disease. As Invisalign unnoticeably straightens your teeth, it will also make sure your teeth is aligned properly.
Healthier Gums Thorough research has indicated that gum health may improve with the use of Invisalign during orthodontic treatment. Properly aligned teeth can help gums "fit" tighter around each tooth, which may lead to better periodontal health. As opposed to braces, with Invisalign, you can brush and floss normally, which can help to avoid tooth decay and gum disease.
Easier Cleanings Unlike conventional braces, Invisalign has no metal bands or wires to ensnare with food or plaque. Sustaining a good oral hygiene program will inevitably reduce chances of plaque buildup, tooth decay and gum disease.
Improved Chewing and Speech For most individuals, incorrectly situated teeth and jaws can exacerbate speech impairment and chewing problems. Adjusting your bite by straightening your teeth through Invisalign can help improve both.
Lower Risk of Trauma and Abnormal Wear Teeth that are properly aligned will not cause any burden on the supporting bone and jaw joints
Comfort & Convenience
Making the decision to straighten your teeth is much easier when you know that Invisalign is flexible enough to let you live your life the way you want to. With Invisalign, you don't need to worry about the gum and mouth irritation other teeth-straightening methods can cause.
With Invisalign, the aligner trays are not only smooth and comfortable to wear, but they're also removable. That means you can continue doing all the things you normally would, from brushing and flossing, to eating whatever you like. With other devices, brushing and flossing properly can often take up to 30 minutes!
Special occasion coming up? No problem – just take your aligners out for that time and pop them back in when you're ready. Of course, even when you're wearing them, most people won't even know you're going through treatment, because they are virtually invisible!
Invisalign is also ideal for your busy schedule, with fewer doctor visits required (approximately every six weeks).
Overbite
Case 1

Case 2
Spacing
Case 1

Case 2