– Partial dentures
A partial denture replaces either one missing tooth or a group of teeth on the upper or lower jaw. They attach to the remaining teeth with either metal hooks. The latter are more esthetically pleasing as they are nearly invisible. Your dentist will give you an advice in order to choose which option is suitable for you. The dentist may also recommend crowns or bridges on your remaining natural teeth as they can improve the retention of your partial dentures.
– Complete (Full) dentures
Complete (Full) dentures are a total replacement for either the upper or lower teeth, or both. Any remaining teeth are removed and gum tissue is allowed to undergo preliminary healing before the dentures are placed in the mouth.
How Are Dentures Made?
The denture fabrication process takes a few weeks and several appointments. Once your dentist or prosthodontist (a dentist who specializes in the restoration and replacement of teeth) determines what type of appliance is best for you, the general steps are to:
Make a series of impressions of your teeth or jaw and take measurements of how your jaws relate to one another and how much space is between them.
Create models, wax forms, and/or plastic patterns in the exact shape and position of the denture to be made.
You will "try in" this model several times and the denture will be assessed for color, shape, and fit before the final denture is cast.
Cast a final denture
Adjustments will be made as necessary
We offer a range of independent dentures.
Valplast (flexidentures)
These dentures are made of a flexible acrylic. They are softer and resilient making wearing a denture much more comfortable.
Flexible clasps can also be added to hold the denture to your adjacent teeth making them very stable and retentive.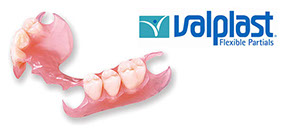 Cobalt Chrome – Metal Dentures
The main component of these dentures are that their major connector is made of cobalt chrome metal. It is incredibly close fitting to the gum and can be made super thin due to its strength. This avoids having thick acrylic covering most of the palate and losing taste when eating foods.
In a similar way to valplast dentures, clasps are used to hold the denture to adjacent teeth to increase their stability and retention, getting you the confidence you need to enjoy your day.